First official tour of DFIR.IT team started on DFRWS in Dublin - we headed there to attend DFRWS EU 2015 conference. Amazing time in Dublin was accompanied by sunny(!) weather, a proper pint of Guinness and some time to geek out - a perfect combination!
First and foremost!
Big THANK YOU to:
all the speakers for SHARING their great research, interesting ideas, tools and projects.
organization committee. Someone who never organized a conference doesn't realize the amount of work, effort and devotion required for events like DFRWS to become successful.
all the attendees - PEOPLE and ability to MEET and TALK with others are the secrets to great conference.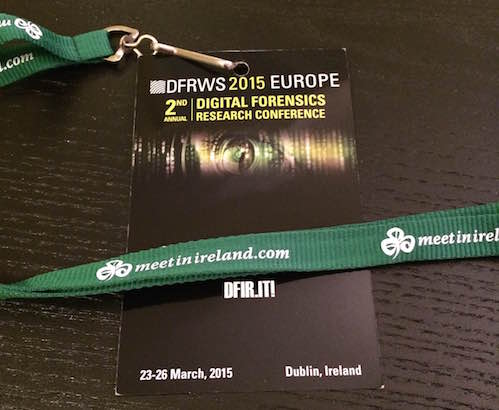 Workshops
DFRWS EU started with Digital Forensics Framework workshop - if you've never used this framework - go and play with it as soon as possible and consider DFF when building IR toolkit. DFF features include reconstruction of VMware 'vmdk' files, support for multiple operating systems (Windows, Linux, OS X) file formats, memory analysis and many more. Workshops could have been ideal if participant were allowed to downloaded forensic images and install software before the class started. Sharing all the data via USB sticks with dozens of people was not the best idea ;)
Next was The Decision and it was extremely difficult where to 'take our talents next'. Rekall and GRR workshops were conducted in parallel. As a clever bastards we've decided to split and share the knowledge and materials. It turns out we were not clever enough, Micheal Cohen workshops quickly extended the available space in the room..
Nevertheless, Andreas Moser workshop was a great hands on introduction to GRR open source project. Workshop allowed participants to collect and analyze forensics artifacts and hunt for evil. GRR has all the features that Incident Responders want to have to quickly react and respond to threats. It took us few seconds after workshop to decide - we are setting up some testing infrastructure with GRR. Stay tuned for more GRR goodies on DFIR.IT
Conference